About Us
Steve Danielson is dedicated to sharing his philosophy and secrets with motivated people who wish to be independent capitalists. Steve Danielson's main business principles are:
Start with very little out of pocket money.
Only pursue things that have very good potential.
Do what you like to do.
Make money.
Only represent the best products and programs with the best guarantees.
Be honest and behave with the highest ethics.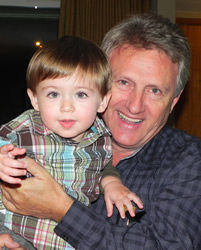 Steve Danielson is owner and operator of Less Foreign Oil. He has over 30 years experience managing, marketing and selling in the US and abroad on products and services that include:
Concrete Pipe
Steel Buildings
Automotive Products
Heavy Machinery
Aircraft & Aviation
Mining Equipment
Banking Services
Home Materials & Financing
Mobile Homes & RV's
Health & Nutritional Products
Home & Garden
Trade Show Services
Communication & Consulting Services
Tap Into The Resources
Products - we represent high quality products and enjoy making them available to discerning and astute people.
Income - find out what we can do for you, and how you can start your own business by working part time. You will build security and residual income faster than you thought possible. Less Foreign Oil's unique solutions include startup information and support not offered anywhere else.