End US Dependence on Foreign Oil
Big dangers for your family no one talks about and incredibly easy ways you can protect yourself from them!
Sometimes just selecting the right products can make all of the difference in performance and safety. What you will find on this web site are products that are often safer to use, more economical and environmentally safer than most top brand products.
AMSOIL produces lubricants for hydraulics and automatic transmissions to mention only two products. The danger of fire is reduced many fold by these two products alone. By using these two products in your family auto or RV for example, you could easily save your family's lives!
AMSOIL has developed hundreds of products and has added them to their line each geared towards solving a health-safety issue or saving your money.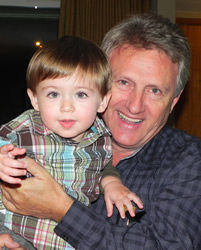 The EPA says used oil contamination is one of the largest environmental problems our planet faces. Used oil seeps into our ground water and contaminates our streams. AMSOIL products not only reduce the amount of oil used, but also reduce oil dripping out of vehicles and exhaust emissions. Better lubrication provides better fuel economy.
You may be thinking, "Extending the oil change intervals will damage my engine or drive train." You need not worry. AMSOIL has been successfully extending oil change intervals for over 30 years now. AMSOIL has a powerful guarantee to cover your equipment. AMSOIL will pay for any damage caused by proper use of their products. (Read the full guarantee for the details and terms).
Why do oil companies recommend oil changes every 3,000 miles? Because they sell oil!
AMSOIL provides many great opportunities in one place!
You can save or make money!
You can do your part to save the environment!
AMSOIL products lubricate better than competitive products, even while extending drain intervals and resulting in less wear. Think of how much energy could be saved by extending the life of automobiles by only 2 years. Think how many raw materials could be saved. Think how much less carbon would be released into the atmosphere.
AMSOIL allows you to save money in a number of ways. AMSOIL offers extended interval drain/change lubricants that reduce your costs of product greatly.
Please press here to find out more about the great AMSOIL products.
AMSOIL has one of the best programs available to start a business. You can start in your spare time without impacting your current work. AMSOIL takes care of most of the things that are unpleasant about having your own business. The infrastructure is already in place. An unbeatable extensive line of products is coupled with a tried and flexible business plan. AMSOIL has available to their independent dealers a very impressive number of sales aids. AMSOIL does most all of the paper work and bookkeeping.
The key to any kind of business venture is to minimize risk and cash outlay while structuring your business plan for growth and increasing profits. This is your opportunity to create your own job security. With a small investment of time and money you can start your own business. The AMSOIL program is not a get rich quick scheme. It is a get an income as large as you are willing to work for program.
Many people are not aware of the great products that AMSOIL provides. Add that to the fact that the number of people using the internet is projected to double in the next 4 years. This is a great time to share your knowledge of the money that can be made and the earth saving AMSOIL products with others who care about these things.